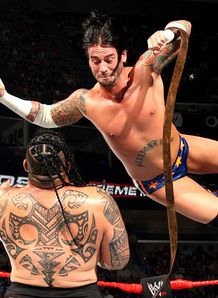 Former WWE Superstar Umaga, real name Edward Fatu, passed away on Friday at the age of 36.
Known to fans as "The Samoan Bulldozer" Umaga spent several hours on a life support machine after reportedly suffering a heart attack.
The tragic news was announced on WWE's website, which stated: "WWE would like to express its deepest condolences to Mr. Fatu's family, friends and fans on his tragic passing. Mr. Fatu was under contract with WWE at various time periods and most recently performed under the name "Umaga." Mr. Fatu's contract was terminated on June 11, 2009."
Fatu, who left WWE in June of this year, had just finished working the Hulkamania tour in Australia in the last week. He was released by WWE after a second violation of WWE's Wellness Policy when he refused to enter rehabilitation.
During his time with WWE, Umaga had worn the Intercontinental Championship bellt and headlined the high profile Battle of the Billionaires match at Wrestlemania 23.